Do you struggle with acne? You're not alone, over 60 million Americans suffer from acne! Your acne can be controlled through the continued use of Face Reality products and corrective in-spa treatments. Depending on the severity of your acne, it typically takes 3-4 months to get clear. Many people see noticeable difference in their acne within the first two months. With a 90% success rate, the Face Reality Acne Program is perfect for acne clients looking for a skin transformation!
The Beauty Lounge Acne Program is a comprehensive program designed to treat active acne and congested skin. Our team of Medical Estheticians are certified acne specialist through the Face Reality Skincare program and are ZO Skincare Experts.
For those who have failed traditional treatments Our team of Nurse Practitioners are specially trained to medically manage Acne Vulgaris, utilizing prescription medication and medical grade skincare from ZO Skin Health.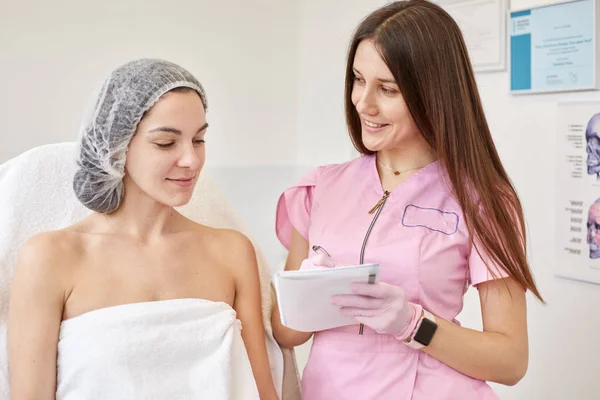 First Time Consultation
This is required before beginning any treatment or homecare. We will go over the program and discuss what to be expected. We will evaluate and discuss all possible acne triggers such as: hormones, digestive system, stress levels, diet, medications, cosmetics and lifestyle. It also includes a mini facial to test any skin sensitivities and pick the right homecare plan for you. 
If you decide to go on our acne-clearing program, you will be instructed on how to use your products for the first two weeks of your program and will be seen bi-weekly for acne treatments. 
Please expect to pay about $150-$175 for your first set of acne products at your first appointment. 
Consultation $50 | 30 minutes
Face Reality Acne Facial
This facial includes; cleansing, extractions, a light peel and high frequency tool to help kill bacteria. Treatment should be performed every 4 weeks. Your acne specialist will asses and adjust your home-care routine as your skin adjusts during each visit. Consultation required before booking.

$150 | 60 Minutes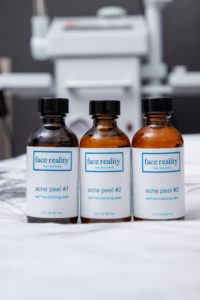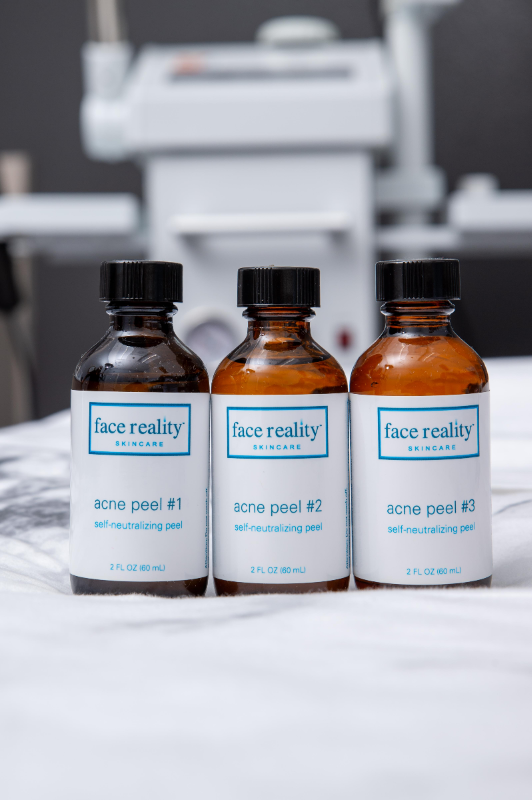 Face Reality Acne peel
This treatment should be performed every 4 weeks. The chemical peel is great for reducing inflammation and acne breakouts, as well as evening out skin texture, and lightening scars. The hydrating enzyme is great for dry, dehydrated, sensitive and/or irritated skin that needs assistance in rebuilding the skin barrier.
$175 | 30 Minutes
Lightstim therapy
The energy delivered by the LEDs has been shown to enhance cellular metabolism, accelerate the repair and replenishment of damaged skin cells, as well as stimulate the production of collagen — the foundation of healthy, smooth skin. Research has shown that LED light therapy may help smooth skin texture, improve skin firmness and resilience, increase lymphatic system activity, restore skin's natural cellular activity, and reduce the appearance of fine lines, wrinkles, and superficial hyperpigmentation. The treatment is for all skin types, and is non-ablative, non-invasive, painless, and requires absolutely no downtime. 20min $25 | 40min $50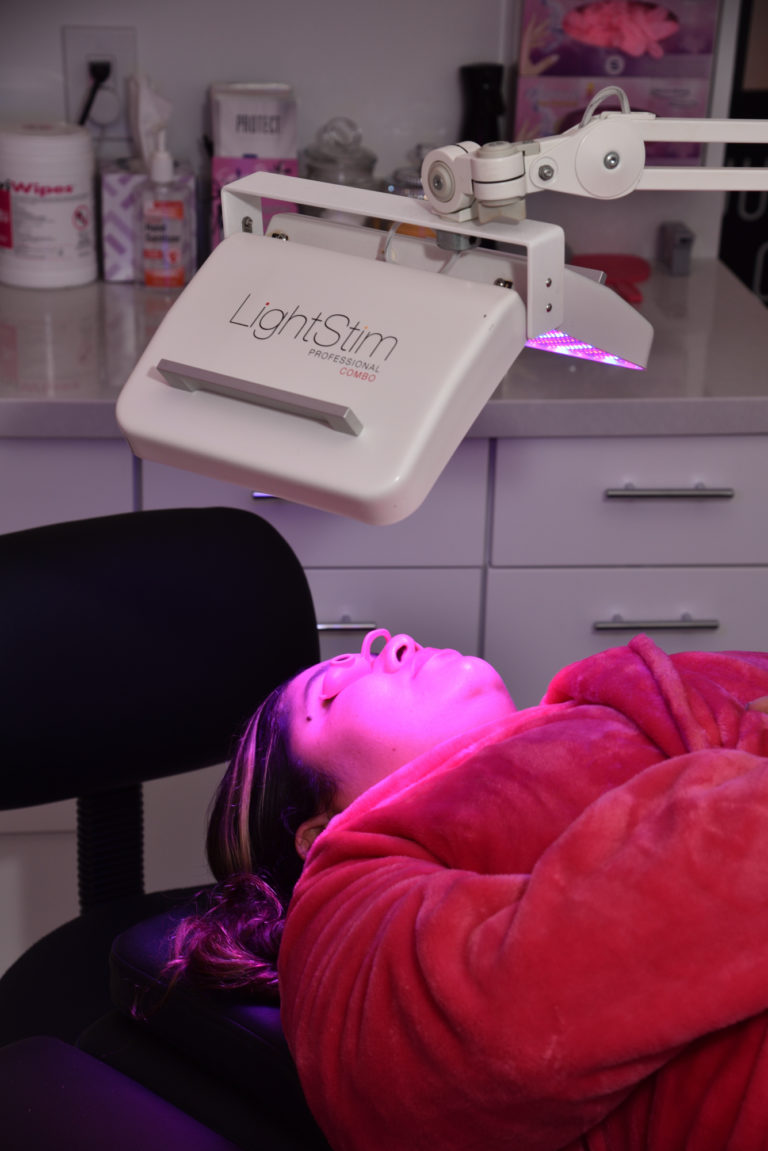 Acne Membership
Bronze Membership $125 per month
Includes customized (1) Face Reality Acne Facial per month ($150 value).
Silver Membership $150 per month
Includes customized (1) Face Reality Acne Facial or Signature HydraFacial MD.
Plus 20 minute LightStim treatment
Gold Membership $250 per month
Includes (1) customized Face Reality Acne Facial  or Signature HydraFacial MD.
Plus 20 minute LightStim treatment
Plus (1) Image Corrective Chemical Peel or Face Reality Chemical Peel.
Plus enjoy exclusive members only pricing:
Medical grade chemical peels
Carbon Laser Facials $250
50 % off IPL Acne Reduction Treatments
10% off all ZO Skin Health, Image, and Face Reality products
frequently asked questions
WHAT IS ACNE?
Acne is an inherited disorder of the pores. The acne pore sheds dead skin cells at an accelerated rate and the body just cannot keep up. This forms the microcomedone, the beginning of all acne. Taking up to 90 days, it turns into blackheads or congestion under the skin; or if the bacteria is present (which just loves to feed on the dead skin and oil), it turns into inflamed pimples or pustules and maybe even cysts.
HOW LONG WILL IT TAKE TO GET CLEAR?
Because it takes up to 90 days for acne to form, you may still have 90 days of acne that will surface. Our acne products and protocol will help keep the new acne from forming and that would surface 90 days from now. The Face Reality Acne System will have your acne under control in about 3 to 6 months (in most cases) depending on your type of acne. Some types of acne take longer to clear. Your Acne Specialist will customize a home care regime by considering the following – your type of acne, your skin type, your skin color, your skin sensitivity, and your environment. The biggest part of getting your skin clear will be your commitment to doing your home care regimen as instructed and following lifestyle guidelines.
WHAT YOU MUST DO AS A CLIENT IN THE ACNE PROGRAM
Follow your custom home care regimen twice daily.
See your Skincare Specialist every two weeks for treatments/and or assessment.
Homecare Adjustments – consistent adjustments will be made to boost your home care regimen.
Lifestyle Adjustments-foods, medications, cosmetics, stress, and pore-clogging ingredients in skin and hair products. You will want to eliminate anything that may be contributing to your acne.
Your Face Reality Certified Acne Specialists, we will monitor your progress closely and make sure you have the best treatment protocol for your skin. Adjustments to your treatments and home care will be made, if necessary. We are committed to getting your skin healthy and clear, and will be available to guide, educate and answer questions throughout the process.
WHAT ARE ADJUSTMENTS TO HOME CARE? 
We assess your skin every two weeks to see if we can make your regimen a bit stronger. We do not want your skin to get used to products, but also not make the regimen so strong that your skin gets dry and irritated. This method will keep your skin clearing up. It's important to know that if adjustments are not made, your progress may stall. If for some reason, you cannot make it in for a treatment, you must contact us to get your next set of instructions for home care adjustments.
Home care is a requirement of this program, and we will not be able to treat you if you are unable to commit to using the Face Reality Acne products at home, as instructed. Expect to invest $150+ on home care products at your first visit. Members save 10% off all retail!!
TREATMENTS
Your suggested treatment protocol is bi-weekly and will consist of mild corrective peels which help to boost the performance of your home care products. You will also receive steam, extractions, high frequency, and anything your skin may need. Your progress will be documented, and adjustments to home care may be made
HOW IS YOUR TREATMENT PROGRAM DIFFERENT?
The Face Reality Skincare line offers a range of products in different strengths that can be customized to treat your specific type of acne and severity (it's not a one-size-fits-all approach).
You have a personal acne expert to coach you through your specific skin problems. She is available to answer your questions anytime and walk with you every step of the way.
We adjust your home-care routine every few weeks to "push" your skin to clear faster. (This takes monitoring so that skin doesn't get too dry or irritated).
The system addresses all aspects of getting your skin clear (lifestyle, diet, hyperkeratosis, bacteria), not just one area.
CAN YOU GET RID OF ACNE SCARS?
What most people consider acne "scars" are actually red, purple or brown marks left behind by old acne lesions. These are not true acne scars. This is called Post Inflammatory Hyperpigmentation (PIH) and can be treated at our clinic with a series of light chemical peels and the right home-care products to lighten these marks. True acne scars are deeper and may look like an indentation or pitting. These will need to be treated with microneedling and or laser skin resurfacing treatments available here at Beauty Lounge Medical Spa. Acne members receive discounted pricing!
WHY DO I NEED PROFESSIONAL PRODUCTS?

Many acne products you find at the drugstore that claim to be good for acne actually contain pore-clogging ingredients or simply stop working (if they help at all). Face Reality's products are specifically formulated for acneic skin and are guaranteed not to clog pores. The products contain pharmaceutical grade ingredients that clear current acne and prevent pores from filling up again.