dermal Fillers san marcos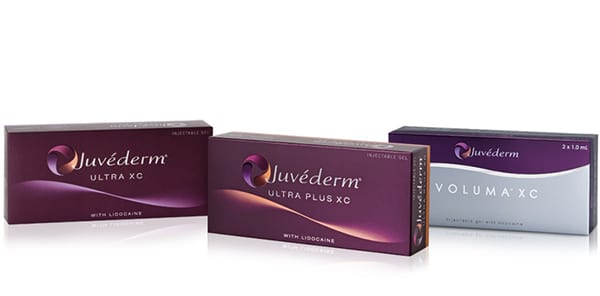 Juvederm contains the highest concentration of non-animal, cross-linked hyaluronic acid of any dermal filler currently available. It is currently the only approved hyaluronic acid dermal filler that has demonstrated its safety and effectiveness in patients of color.
Juvederm is developed using the proprietary Hylacross technology, a technologically advanced manufacturing process that results in a malleable, smooth gel that flows easily into the skin and creates a smooth, natural look and feel. All other currently approved hyaluronic acid dermal fillers utilize a gel particle suspension formulation. These gel particles can be seen under magnification as opposed to the smooth formulation used in Juvederm.
Juvederm is available in two formulations to allow for a tailored treatment to your unique needs. Juvederm Ultra provides versatility in contouring and volumizing facial wrinkles and folds. Juvederm Ultra Plus is a more robust formulation for volumizing and correcting deeper folds and wrinkles.
There are multiple products within the Juvederm family that are designed for different uses;
Juvederm Ultra & Ultra Plus: The original Juvederm formula, Ultra is ideal for treating moderate lines and wrinkles, provides limited contouring and scar correction, and moderate lip enhancement. Results typically can last up to 9-12 months. 
Juvederm Voluma: The first and only hyaluronic acid (HA) based dermal filler approved by the FDA to instantly increase the volume of the cheeks. Results last up to 2 years with fill correction. 
Juvederm Volbella: A hyaluronic acid gel-based filler that uses patented Vycross technology to smooth lip lines and other fine lines and wrinkles around the mouth. Results last up to 18 months after treatment. 
JuvedermVollure: Juvederm's newest filler designed to correct the most severe folds and wrinkles including the nasolabial folds. Results of Vollure can last up to 18 months.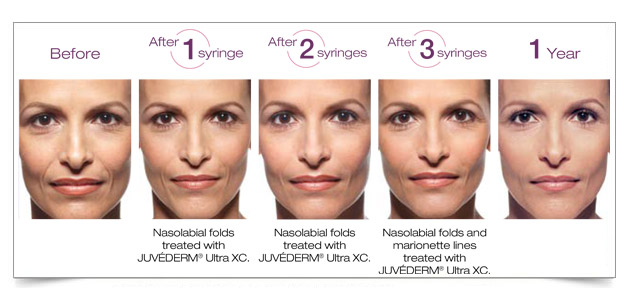 Juvederm XC® with the active ingredient, hyaluronic acid, the natural substance already present in your body, is injected beneath the skin to replenish the naturally reoccuring substances your skin has lost over the years. Juvederm® brings back the volume and instantly smooths away wrinkles around the mouth and nose. How Long Does it Last? Results vary by patient, but Juvederm XC® generally lasts up to 12 months. FDA Approved Juvederm XC is FDA Approved and a natural, biodegradable substance of non-animal origin. 
Injection-related reactions such as swelling, redness and tenderness may occur. You should avoid strenous exercise, and extreme hot or cold after treatment for 48 hours. With lip treatment you should avoid puckering your lips for the first two days after treatment.