Through our Venus Versa, our innovative technology we offer you the Blue and Red Acne Light Therapy. It is an effective solution for active acne. It addresses acne, by treating both the underlying cause, as well as the visible symptoms associated with acne. This treatment uses intense pulse light technology (IPL), specifically a combination of blue and red light delivered simultaneously. The blue light kills the bacteria that causes acne breakouts and the red light reduces acne-related inflammation.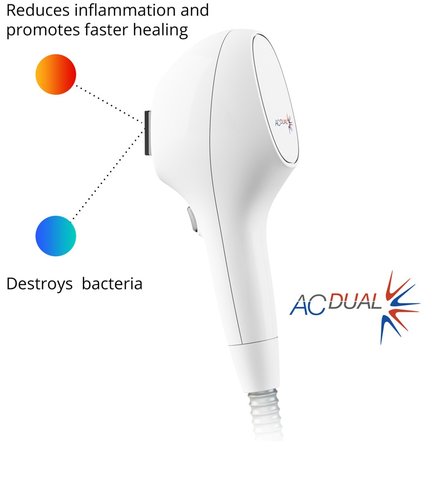 Acne Reduction: How Does it Work?
The blue light targets the acne-causing bacteria in the oil glands. These bacteria contain a certain type of pigment that, when activated by the blue light, destroy the bacteria from the inside out. By eliminating this underlying cause of acne, the skin is better able to recover and blemishes will begin to disappear. At the same time, the red light emitted from the applicator works to reduce the inflammation of existing acne and promote faster healing. Because red light can penetrate farther into the layers of skin, it's better able to treat deeper pores and can help with reducing the production of acne-causing sebum. Research has shown that when blue and red light are administered together, the results are much better than with just blue light alone.
BENEFITS OF BLUE AND RED ACNE LIGHT THERAPY
Treats active acne
Gets rid of the bacteria that leads to acne breakouts
Diminishes acne-related inflammation around the treatment area
Reduces likelihood of future outbreaks by promoting faster healing
Built-in cooling technology for superior patient comfort
Minimal downtime required
Safe for virtually all skin types
Skin that looks and feels healthier with a noticeably clearer complexion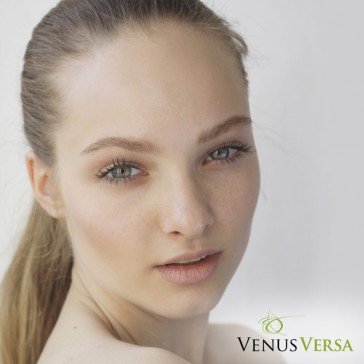 Venus Versa Acne Treatment
Frequently asked questions