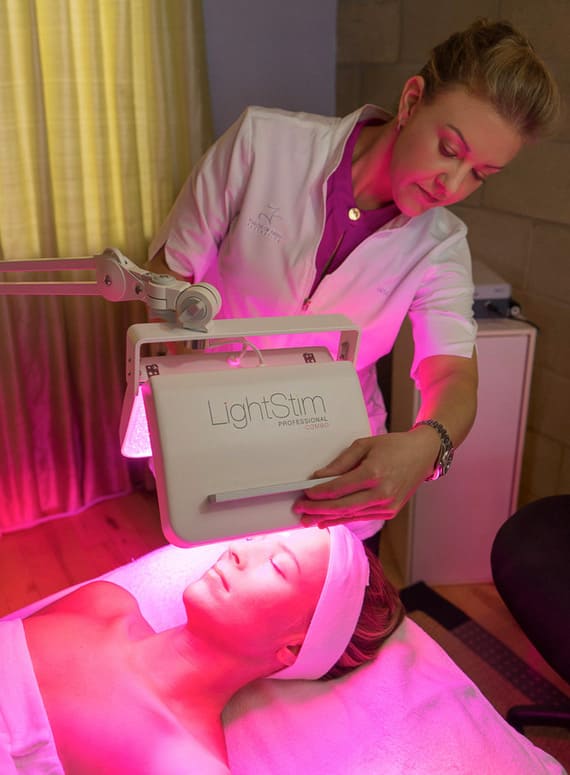 LightStim is a non-surgical and non-invasive facial treatment that delivers UV-free light to stimulate cells, increase blood flow, and create new proteins. LightStim is a great option for all skin types but is commonly used to fight acne and wrinkles.
When performed before or after a treatment such as microneedling or lasers, LightStim can greatly decrease the redness and inflammation that can be a side effect of those services.
LightStim Can Treat:
Acne

Fine lines and wrinkles

Redness and inflammation

Dull or textured skin

Crepey skin

Enlarged pores
For Acne
Clear, calm, and healthy skin
LightStim is an effective choice for treating mild acne, managing existing acne breakouts, and restoring the healthy and clear complexion of your skin. 
LightStim's blue LED light therapy targets acne-causing bacteria in the oil glands, and also calms any current breakouts. This treatment helps to clear skin for a brighter, healthier complexion.
For Wrinkles
Heal your skin from within
LightStim uses both red and amber LED light to decrease fine lines and wrinkles. In addition, this treatment helps with topical skincare absorption, which makes the skin feel amazing, hydrated, and radiant.
The rejuvenating wavelengths emitted by the LED lights stimulate the production of collagen and elastin in the skin. Collagen strengthens the skin and helps keep it tight. Elastin allows the skin to stretch yet retain its form without becoming wrinkled or saggy.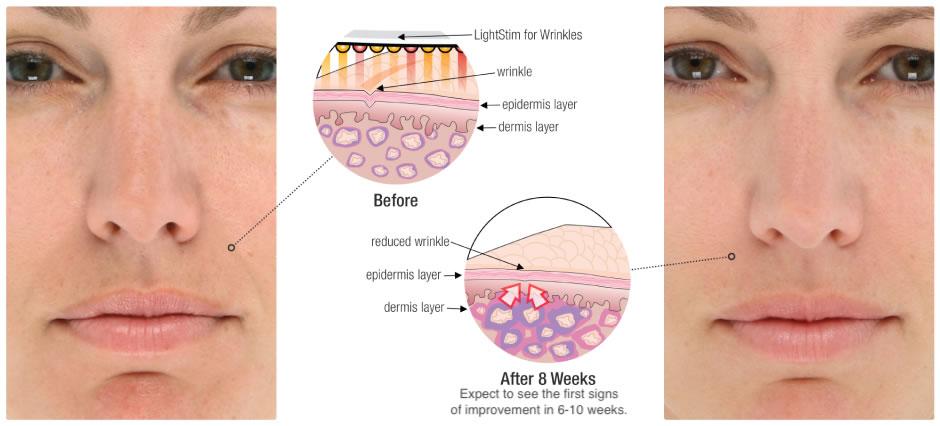 FDA Cleared
LightStim for Wrinkles is FDA cleared to treat wrinkles on the entire face. You can treat your forehead, crow's feet, cheeks, nasal labial folds, jawline and even your lips.
Clinically Proven Results
In FDA clinical studies 100% of participants showed improvement in their fine lines and wrinkles in just 8 weeks.
LightStim MultiWave® Patented Technology
LightStim has advanced NASA's LED technology to a new level, developing LightStim MultiWave® Patented Technology to simultaneously emit multiple wavelengths (colors) of light. These wavelengths of light work together to give your skin a more radiant and youthful appearance.
LEDs are Therapeutic
LED stands for Light Emitting Diode, which is a tiny computer chip encased in glass. Each LED wavelength (color) of light provides unique therapeutic benefits. LED is non-invasive, painless and requires no recovery time. This Light is good for all skin types and is engineered to emit a soothing gentle warmth. LightStim for Wrinkles has 72 LEDs of Amber, Light Red, Dark Red and Infrared.