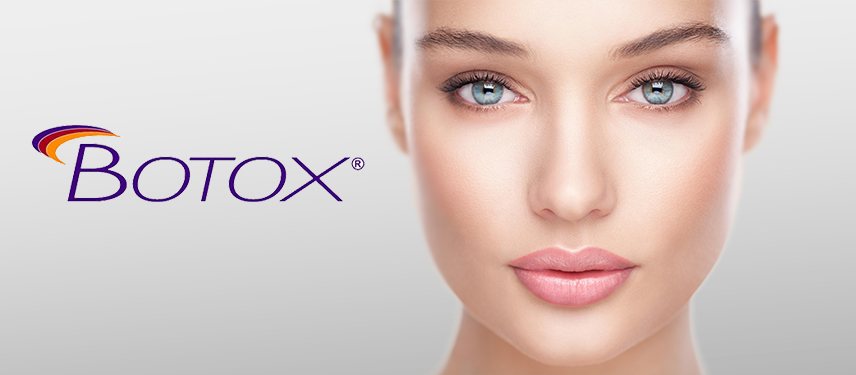 Botox and Dysport are anti-wrinkle treatments designed to give you a younger looking complexion. Each treatment contains the protein Botulinum Toxin A which is injected into the skin to paralyze facial muscles that cause wrinkles, for a smoother, more youthful appearance.
Approved by the FDA, Botulinum Toxin A provides real, noticeable results with no surgery and no recovery time. This proven, therapeutic treatment reduces wrinkles caused by years of squinting, laughing, frowning and other facial expressions. If facial lines make you appear tired, unapproachable, angry, or if you feel less confident about your appearance then Botox or Dysport may be right for you.
Botox & Dysport Treatments
 Botox or Dysport is injected by our trained medical professionals into the muscles that are causing the wrinkles to form and temporarily reduces muscle activity. The results, are improved frown lines, less wrinkles and smoother younger-looking skin. 
Botox: $13.50 per unit
Dysport: $4 per unit
Xeomin $12 per unit
Jeuveau $12 per unit
Patients typically requires 3x the amount of Dysport in each treatment area than Botox.
How Long Does
Botox Last?
Botox  Treatments generally last for four to six months, but individual results will vary. There is no down-time with Botox. Some patients may experience mild or brief discomfort during the treatment, but you can immediately return to normal activities.
Trained & Experienced Professionals
The Beauty Lounge Nursing & Medical staff are trained professionals who have received extensive training and on-going education for cosmetic injectables. For a personal consultation contact us or call 760-877-8747
dermal Fillers san marcos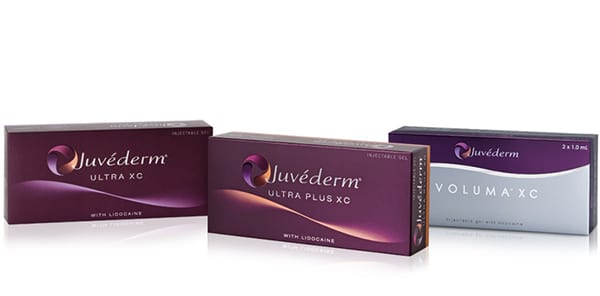 Juvederm contains the highest concentration of non-animal, cross-linked hyaluronic acid of any dermal filler currently available. It is currently the only approved hyaluronic acid dermal filler that has demonstrated its safety and effectiveness in patients of color.
Juvederm is developed using the proprietary Hylacross technology, a technologically advanced manufacturing process that results in a malleable, smooth gel that flows easily into the skin and creates a smooth, natural look and feel. All other currently approved hyaluronic acid dermal fillers utilize a gel particle suspension formulation. These gel particles can be seen under magnification as opposed to the smooth formulation used in Juvederm.
Juvederm is available in two formulations to allow for a tailored treatment to your unique needs. Juvederm Ultra provides versatility in contouring and volumizing facial wrinkles and folds. Juvederm Ultra Plus is a more robust formulation for volumizing and correcting deeper folds and wrinkles.
There are multiple products within the Juvederm family that are designed for different uses;
Juvederm Ultra & Ultra Plus: The original Juvederm formula, Ultra is ideal for treating moderate lines and wrinkles, provides limited contouring and scar correction, and moderate lip enhancement. Results typically can last up to 9-12 months. $550
Juvederm Voluma: The first and only hyaluronic acid (HA) based dermal filler approved by the FDA to instantly increase the volume of the cheeks. Results last up to 2 years with fill correction. $750
Juvederm Volbella: A hyaluronic acid gel-based filler that uses patented Vycross technology to smooth lip lines and other fine lines and wrinkles around the mouth. Results last up to 18 months after treatment. $650
JuvedermVollure: Juvederm's newest filler designed to correct the most severe folds and wrinkles including the nasolabial folds. Results of Vollure can last up to 18 months. $650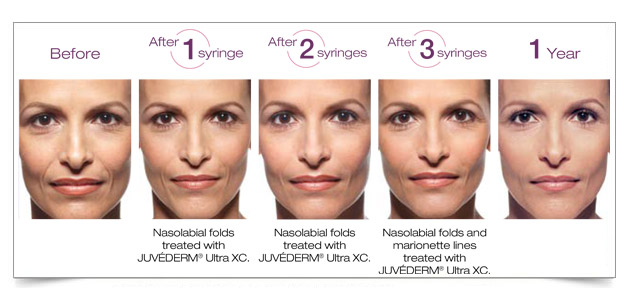 Juvederm XC® with the active ingredient, hyaluronic acid, the natural substance already present in your body, is injected beneath the skin to replenish the naturally reoccuring substances your skin has lost over the years. Juvederm® brings back the volume and instantly smooths away wrinkles around the mouth and nose. How Long Does it Last? Results vary by patient, but Juvederm XC® generally lasts up to 12 months. FDA Approved Juvederm XC is FDA Approved and a natural, biodegradable substance of non-animal origin. 
Injection-related reactions such as swelling, redness and tenderness may occur. You should avoid strenous exercise, and extreme hot or cold after treatment for 48 hours. With lip treatment you should avoid puckering your lips for the first two days after treatment.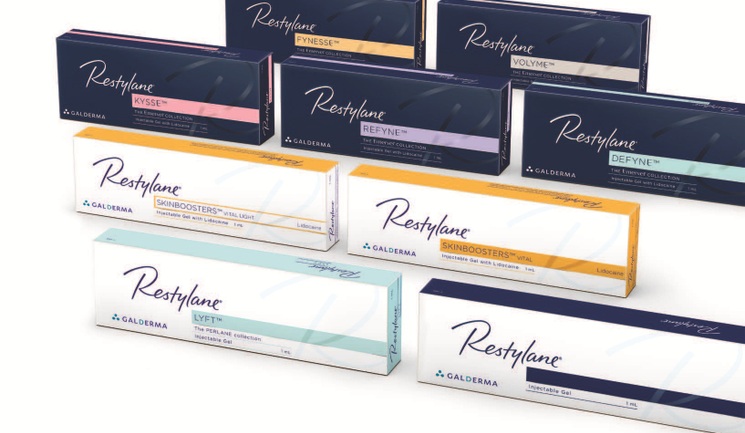 Restylane® is a safe and natural dermal filler that restores volume and fullness to the skin to correct facial wrinkles and folds. Collagen is a protein that is found naturally in your body to give support to your skin. With time (or accelerated by sun or smoke damage), your body's collagen weakens forming wrinkles in skin. Restylane helps to replenish the skin's natural collagen support layer and provide additional support. The result is a smoother face.
There are multiple products within the Restylane family that are designed for different areas of the face.
Restylane – Add volume and fullness to the skin to correct moderate to severe facial wrinkles and folds, including the nasolabial folds (the lines from your nose to the corners of your mouth). $650
Restylane Silk – Add fullness and definition to lips with natural-looking results after just one treatment.  This lip injection is also ideal to help smooth the wrinkles and lines around the mouth. $550
Restylane Lyft (formerly called Perlane) – Used to increase volume and smooth wrinkles in the mid-face/cheek area and nasolabial folds.  Restylane Lyft was also recently the first hyaluronic acid filler to be approved by the FDA for age-related volume loss in the back of hands. $750
Restylane Refyne and Defyne – Specially formulated for injection into the mid-to-deep dermis for correction of moderate to severe deep facial wrinkles and folds (such as the nasolabial folds). $650
Restylane Kysse $650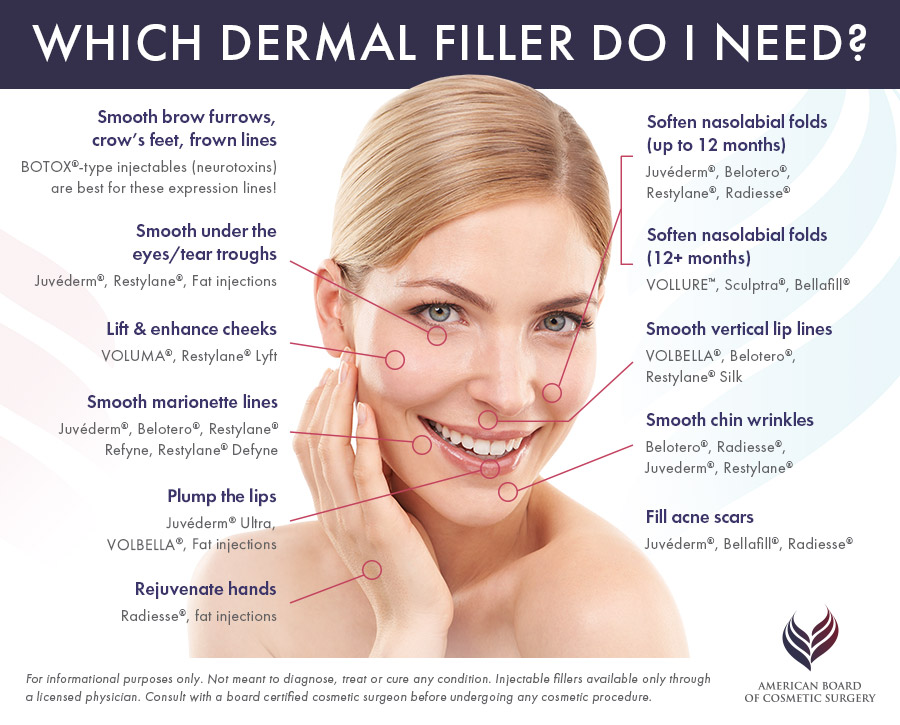 Kybella®
(Nonsurgical Neck Reduction Injections
Even a small amount of excess fat in the upper throat area may create the presence of a "double chin" that is unwanted to both women and men. The extra pockets of fat beneath the chin (aka the submental area) can be caused by weight fluctuations, aging, or genetics that lead to a softer jawbone and chin for less defined profile.Approved by the FDA (Food and Drug Administration), Kybella is a new nonsurgical procedure for upper neck fat. The active component in Kybella is a manmade version of deoxycholic acid, which works similarly like the body's natural DA to dissolve and absorb fat cells. Once it's injected below the chin, you can see a visible decrease in the volume of fat. After the fat cells are eliminated, it does not re-form, so you can enjoy your new, slimmer neck and clear jawline.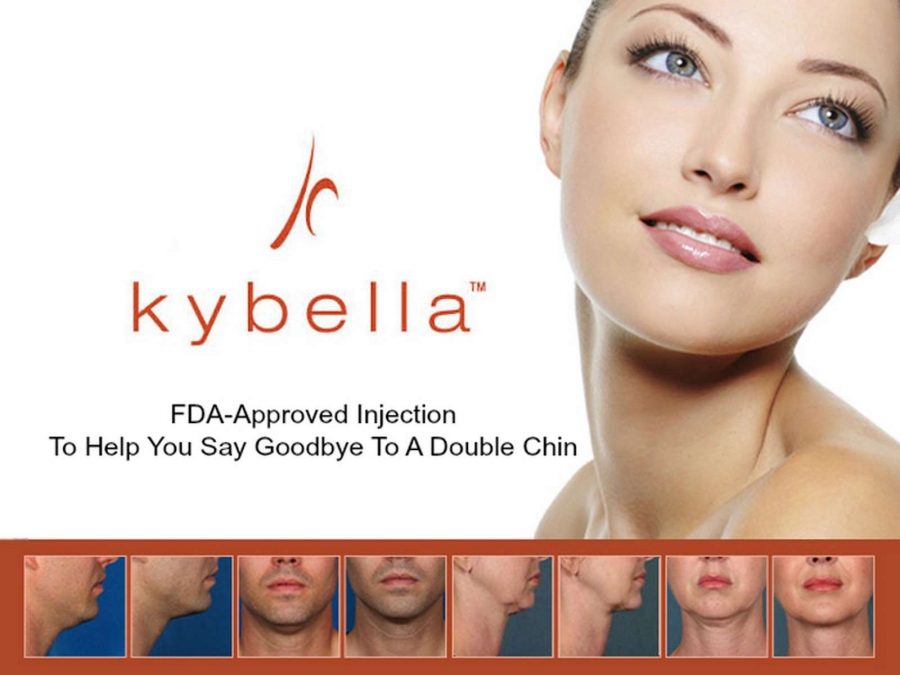 The ideal candidates for Kybella treatments have additional fat in the upper throat (submental area), which creates unwanted fullness or a double chin. Kybella addresses resistant sections of fat that will not be minimized with usual weight loss techniques because it is created by genetics, aging, and several other conditions. If you are at or near a healthy, stable weight, but exercise and diet have not worked to remove the fat in your neck, Kybella may be the correct procedure for your needs. While Kybella may reduce small or moderate pockets of fat in the upper neck, larger pockets of fat may be better treated with surgical neck liposuction.
Kybella treatments are completed during an appointment in one of our treatment rooms. We usually apply a numbing cream to the treated area, if preferred, once the skin is cleansed. The procedure lasts around 15 minutes, which includes multiple small injections into the upper neck area. Patients may need a single treatment to achieve their desired goal, while other patients may require several injections spaced three weeks between each appointment.
Because Kybella doesn't need general anesthesia, patients can leave our office when they are ready to return to their usual routine. Patients may experience short-term swelling, bruising, or numbness beneath the chin; however, this shouldn't last more than 2 – 3 days. Contact Beauty Lounge Permanent Makeup & Med Spa right away if you are feeling any unusual symptoms, like difficulty swallowing, facial muscle weakness, or if your facial expressions are uneven. While the fat eliminated by Kybella do not regenerate, the cells that remain can get larger, so patients must keep a stable weight after their Kybella treatments to avoid new pockets of fat from developing. The results after this procedure leave your neck looking slimmer and tighter and your neckline will be better defined.
Just because everybody else in your family tree has to conceal their genetic double chin does not mean you have to. Reduce neck fat so you can get a strong, well-defined jawline and chin.