Help Minimize the signs of aging
Are you passionate about the health and appearance of your skin, but you are concerned that your normal skin care routine or products are not doing everything you want them to? Do you worry about how the natural aging process or other lifestyle factors have impacted your skin? The HydraFacial San Diego may be the treatment for you and your concerns! This non-surgical, minimally invasive treatment utilizes hydration to rejuvenate and refresh your skin. Explore the benefits during this treatment option during a consultation with Beauty Lounge Medical Spa.
A HydraFacial San Diego is a gentle yet powerful skincare treatment. This non-surgical, non-invasive treatment safely and effectively enhances the overall health and appearance of your skin. It offers instant, noticeable results with no downtime or irritation. The HydraFacial skin treatment removes dead skin cells and extracts impurities while simultaneously bathing the new skin with cleansing, hydrating and moisturizing serums. The treatment is soothing, refreshing, non-irritating and immediately effective. HydraFacial MD delivers instant and long-lasting results that you can see and feel.
HydraFacial can treat a variety of skincare concerns with just one relaxing treatment! Common concerns addressed with this treatment include:
Age or brown spots
Dull or uneven skin tone
Enlarged pores
Fine lines and wrinkles
Lack of elasticity or firmness
Oily or clogged pores
Uneven skin texture
The ultimate result of a HydraFacial is brighter, clearer, smoother skin. A consultation with our team can help ensure this customizable treatment is accurately meeting your needs.
What Could I Expect From A Procedure?
A HydraFacial begins with a member of our team using a tool to gently remove excess dead skin cells. Once dead skin is removed from your face, hydration and serums are applied to the face. Serums are carefully selected based on your skin and your goals for treatment. The combination of hydration and serums helps cleanse and refresh your skin.
This is an effective and thorough treatment, but it is very gentle and relaxing. A treatment session is typically short – only requiring half an hour or less – and it is an outpatient procedure. There is no set downtime associated with a treatment session, and you should be able to return to your regular daily activities!
While results will vary, most people enjoy the results of their HydraFacial treatments immediately! They may last for up to a week, and a regular series of treatment sessions can help you maintain your glowing results
Many clients report seeing visible skin refinement and an even, radiant skin tone after just one treatment. The smooth results and hydration last 5 to 7 days, sometimes even longer.  This isn't a quick fix, though, and we recommend one treatment per month for improving the appearance of fine lines, wrinkles, brown spots, oily and congested skin. Continued HydraFacial treatments are highly recommended to maintain skin health results.
Am I A Good Candidate For HydraFacial San Diego?
The HydraFacial is designed to be safe and effective for all skin tones and types! This is a customizable treatment, and it can be tailored to your unique skin needs and concerns. A consultation with our team in  San Diego, California can help ensure this is the best treatment for you and your goals.
Schedule Your Consultation For HydraFacial San Diego!
Ready to refresh your skin? Contact us today at Beauty Lounge Medical Spa and schedule your consultation to learn more about the HydraFacial. Our team proudly serves San Marcos, Escondido, Vista, Oceanside, Encinitas, Carlsbad, Poway, Rancho Bernardo, Rancho Santa Fe, Fallbrook, Temecula, and more!
This 60 minute treatment deeply cleanses, exfoliates, extracts, and hydrates the skin utilizing super serums filled with antioxidants, peptides, and hyaluronic acid. – $225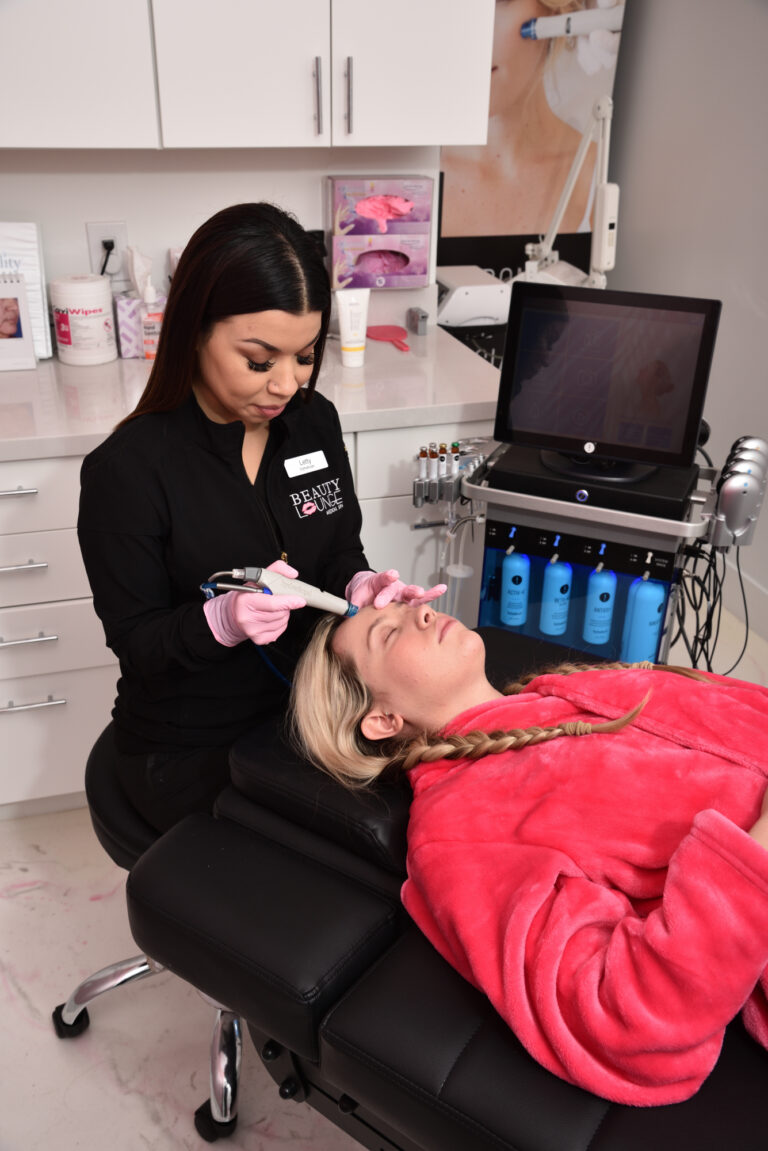 This invigorating 75 min treatment that includes all of the essentials of the Signature Hydrafacial while addressing your specific skin concern with a Booster of your choice. This treatment concludes with a customized hydrojelly mask and LED LightStim treatment to further reduce the visible signs of aging. Select treatment option below;
Includes CTGF™ to improve the appearance of skin tone, texture, and elasticity. – $275
Includes Britenol® to minimize the appearance of dark spots.– $275
Includes DermaBuilder™ to reduce the appearance of fine lines and wrinkles.– $275
Includes Extended Extractions & Blue LED Light Therapy.– $275
The ultimate HydraFacial MD® experience! Begin the detoxification process with Lymphatic Drainage. Then, the Signature HydraFacial deeply cleanses, exfoliates, extracts and hydrates the skin while addressing your specific skin concern with two Boosters of your choice. This treatment concludes with LED Light Therapy to further reduce the visible signs of aging. 90 minutes – $300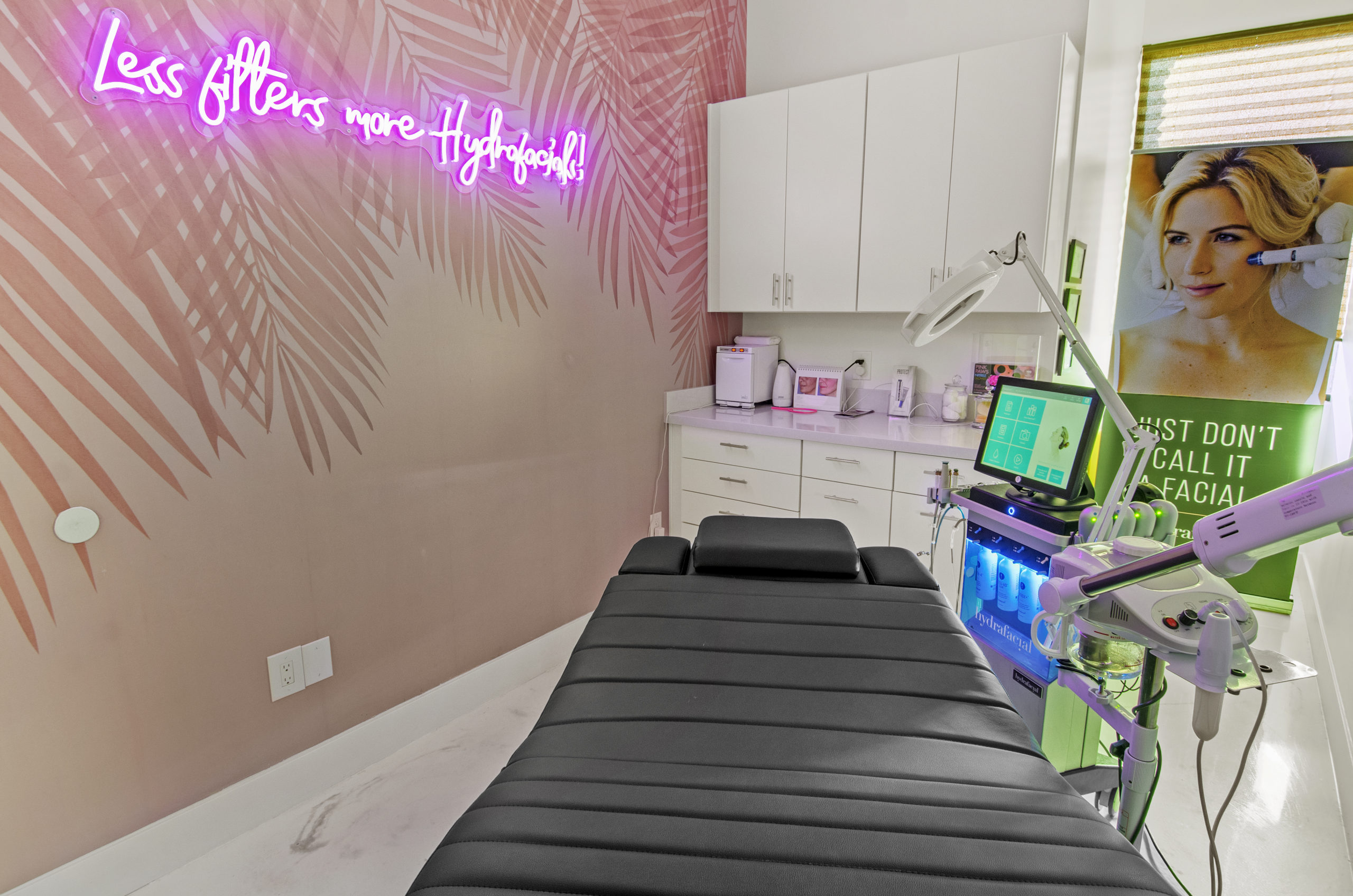 Dermaplaning -$50
High Frequency $25
Oxygen Dome -$75
ZO Stimulator Peel- $200